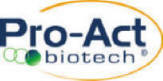 FOR IMMEDIATE RELEASE
FOR MORE INFORMATION:
Pro-Act Biotech
1-800-772-3775
A Unique Digester Technology Increases Gas Output and Capture

Warren, RI, January 15, 2009 --- Pro-Act, a biotech company with a focus on environmental systems for the dairy industry, has filed several patents for its digester technology designed to work with manure water from dairies with flush barns.

"Digester technology is very important now, inside and out of the dairy industry," explains Bill Campion, president of Pro-Act Biotech. "The CAFOs, are coming under increasing pressure to comply with environmental regulations. Anaerobic digesters solve many of those problems so farmers can now benefit from technology that significantly eases their impact on the environment. It allows them to collect carbon and green credits as well as make electricity and hot water for the farm. The rest of us benefit from a cleaner environment."

Pro-Act's biogas digester technology for flush dairies is more economical and easier to operate and maintain than what is currently available to these farms. In addition, preliminary testing shows that the Pro-Act technology can increase gas output, allowing farms to capture more of the gas.

Pro-Act is also licensing their technology for use with other conventional digesters. Their system will work in conjunction with a conventional digester, increasing its gas output and the farm's opportunity to earn carbon credits and/or produce electricity.

"Without Pro-Act's unique technology for flush dairies they would not have an opportunity to decrease their emissions, benefit from carbon credits and tap into that source of power," Campion explains.

In addition to the flush dairy design, Pro-Act has also developed an economical digester system for smaller farms.
# # #